News
Blues for Food 2019
Join us for the annual Blues for Food event at the Water Tower Pub in Sault Ste. Marie, Ontario, Canada.
Show starts at 9:00 p.m.!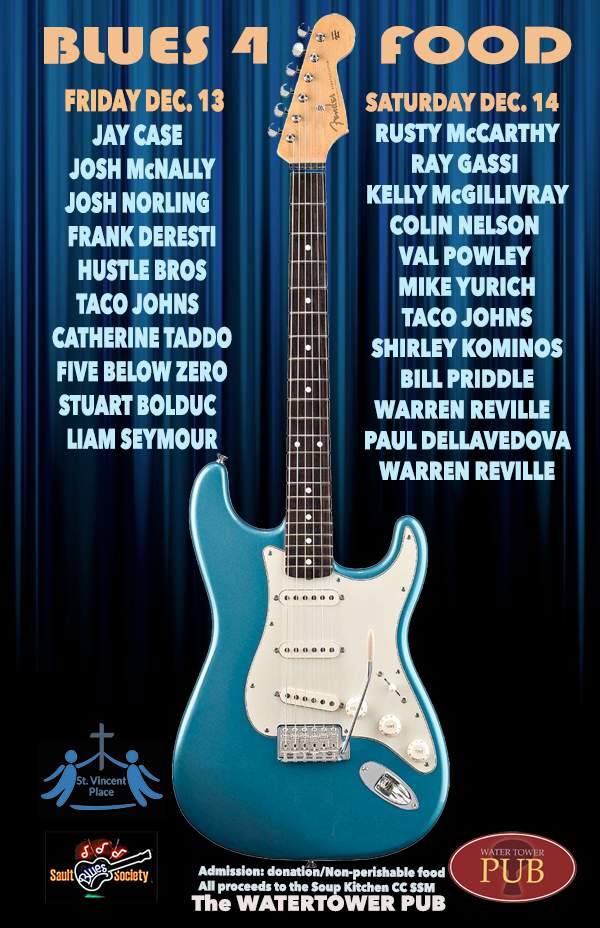 German Tour
We have some bit news! We will be heading out on tour this summer for some shows in Germany! We would love to include you in our journey. In order to make the tour a success we have kicked off a GoFundMe page to assist with tour costs. We appreciate any assistance that you can provide! We will be posting updates for you as we travel!
Our next show will be the Blues and BBQS show Room 21 in Sault Ste. Marie, Ontario. Tickets are $15 and it will include BBQ sliders!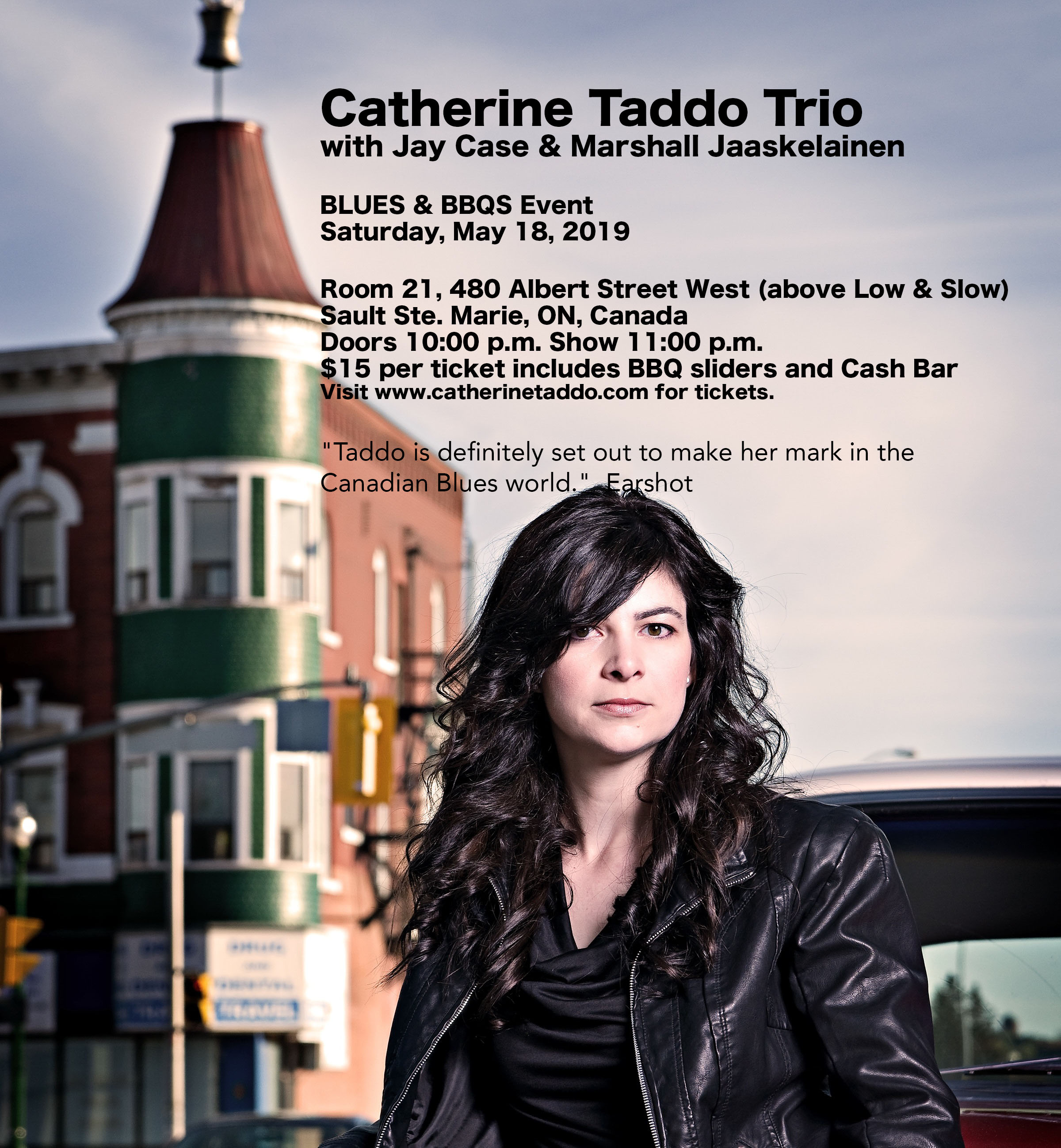 Room 21
I will be performing April 13, 2019 and May 25, 2019 at Room 21 in Sault Ste. Marie, Ontario, Canada. The venue is located at 480 Albert Street West, above Low & Slow. The doors open at 10:00 p.m. and the shows kick off at 11:00 p.m.. Jay Case will be performing with me on lead guitar for the April 13 event, and Lindsay Pugh will be with me on May 25! Join us on the Facebook events here:
-April 13, 2019 Facebook Event
CBC Radio Up North
I'll be heading to CBC Radio studios Friday, March 8, 2019 for a chat with Waubgeshig Rice on Up North, before the Bloom show in Sudbury, Ontario, Canada! The Up North show runs from 4:00 p.m. to 6:00 p.m. so be sure to tune in at 4:00 p.m.! If you miss it you can check it out on their website!
Bloom 2019!
Make sure to grab your tickets and come see us play #Bloom2019 !!!
#Bloom2019
is a NEW, multi-venue music festival taking place in downtown Sudbury dedicated to presenting many styles of exciting, authentic music from around the world!
For information on the lineup, tickets and venues, visit: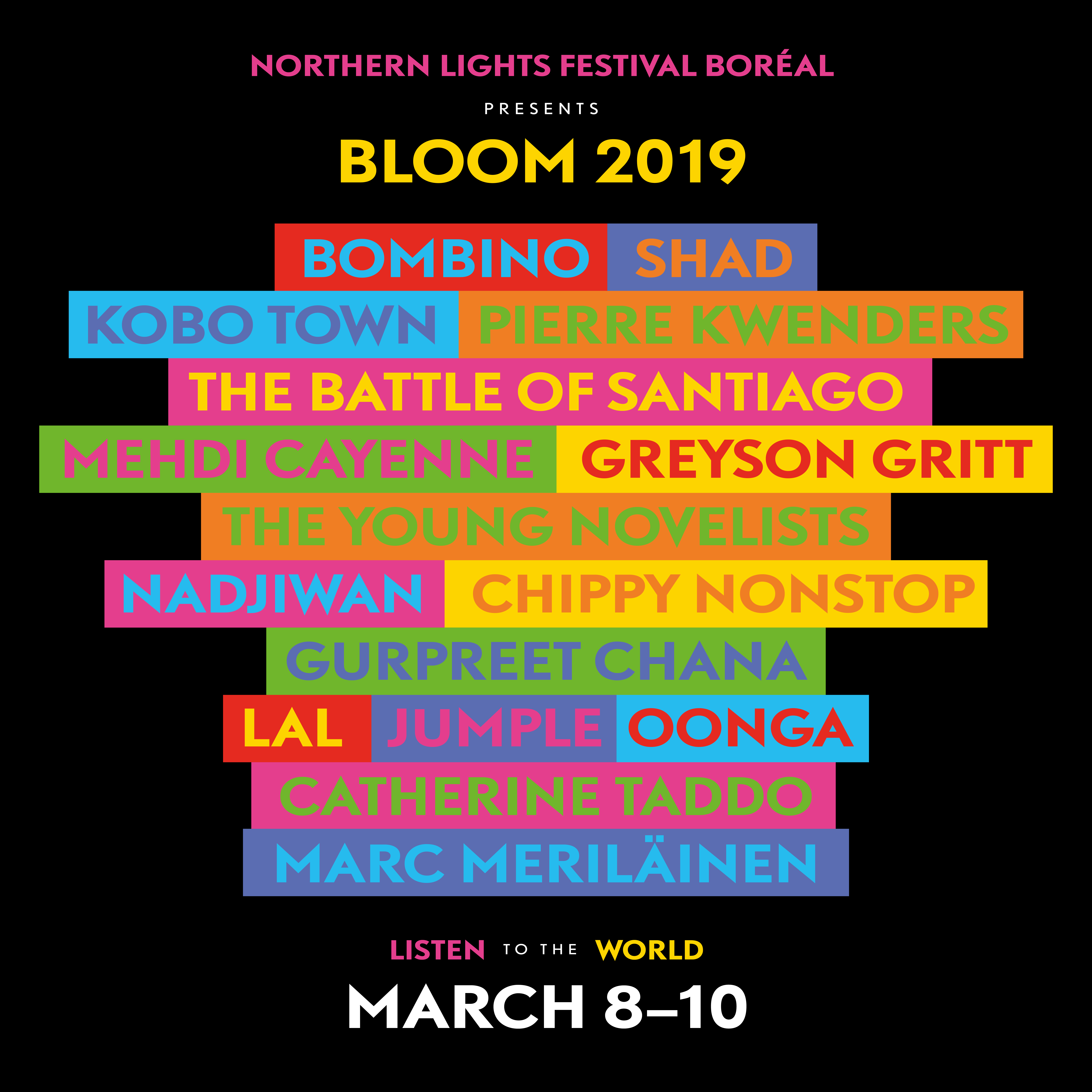 Taddo Plays New Sudbury Festival
Sault Star
Published January 18, 2019
By Brian Kelly
Catherine Taddo is headed back to the Nickel City to help launch a new music festival.
The Sault Ste. Marie blues artist is part of Northern Lights Festival Boreal's Bloom festival in early March.
The Thunder Bay native opens for singer-songwriter and slam poet Medhi Cayenne at Little Montreal Bar and Deli on March 8 at 11 p.m.
"It's nice to be involved right from the start," she said. Taddo will be joined by Jay Case (guitar), Frank Deresti (bass) and Mark Gough (drums). She'll play material from two of her albums – Under Your Hood and This Way.
"We're really excited," Taddo told The Sault Star. "It's a good opportunity to be involved in such a well-planned event."
The upcoming date is her first in Sudbury since a 2005 appearance at Chapters as part of a two-month Canadian tour.
Taddo is working on material for a new album. That release will be her first since Under Your Hood came out in 2011.
Bloom runs March 8-10. Other featured acts include The Young Novelists, Nadjiwan, Shad and Bambino.
Taddo called the lineup "a nice diverse crowd of musicians."
She and Case play Algoma's Water Tower Inn on Feb. 14. Case starts with a solo set at 8:30 p.m. before joining Taddo for two sets.
The pair play Room 21 at Low and Slow on April 13. Bloom festival information is posted online at https://nlfb.ca/event/bloom-2019/
Bloom 2019 - March 8 to 10th, 2019
The news is out! We will be performing at the first annual Bloom Festival in Sudbury, Ontario, Canada, at the Little Montreal, at 11:00 p.m. followed by Mehdi Cayenne. Please visit the Northern Lights Festival Boreal website for the full lineup.
Northern Lights Festival has taken place for 47 years, celebrating music & arts through the annual summer festival. This spring, the NLFB team brings you Bloom 2019, a multi-venue festival devoted to presenting culturally diverse music & arts on March 8-10, 2019. There is, to date, no other world music festival in Sudbury, Ontario, Canada, and NLFB is thrilled to present the most exciting, new international talent.
What can you expect at this new festival? Bloom 2019 will be a multi-venue festival held in downtown Sudbury. The programming will celebrate diversity by focusing on music from around the world. Max Merrifield, Artistic and Executive Director of Northern Lights Festival Boréal, is excited to take on this new project. "We're so thrilled to heat up early-spring Sudbury with a super vibrant, exciting celebration of music in all its variety. Expect some major headline acts and thrilling new discoveries, all with roots in different parts of the world. Roots, rock, pop, indie, hip-hop, electronic…anything is possible!"
Blues for Food - December 14, 2018
The 9th Annual Blues for Food event, will be held at The Water Tower Pub, on Friday, December 14, 2018, in Sault Ste. Marie, Ontario, Canada. Artists include Catherine Taddo, Shirley Kominos, Rusty McCarthy, Val Powley, Mike Yurich, Taco Johns, Britta Wolfert, Frank Bock, and Ray Gassi, and Colin Nelson. Due to the large interest, a second event will also be held on December 15, 2018 at the same location. Artists include Lynne Reville, Shirley Kominos, Al Davis, Bob Yeomans, Jay Scali, Warren Reville, Bill Priddle, Jay Scali, and Zack's Allstars. We will be accepting donations of non-perishable food and cash. All proceeds to the Soup Kitchen. The event is hosted by The Water Tower Pub located at 360 Great Northern Road in Sault Ste. Marie, and The Sault Blues Society. Show starts at 8:30 p.m..
Little Lilith Fair - December 1, 2018
We are excited to announce two days of female artists at the Water Tower Pub, lcoated at 360 Great Northern Road, in Sault Ste. Marie, Ontario, Canada. On Saturday, December 1, 2018 performers include Catherine Taddo, Heather Scott, Kelly McGillivray, Maja Bannerman, Penny Gribbon, and Shirley Kominos The event will also be held on Friday, November 30, 2018 at the same location with artists including Janet Brown, Valerie Powley, Britta Wolfert, Lynne ReVille, Conga Gals, and Ladies Sing The Blues. Donations will be accepted with proceeds to Women in Crisis.
Loplops - November 10, 2018
We are excited to announce are next show at Loplops, on Saturday, November 10, 2018, located at 651 Queen Street East, in Sault Ste. Marie, Ontario, Canada. Lindsay Pugh will be doing an opening set with material from his new album, Leave in all Behind, followed by material from Catherine's albums Under Your Hood, and This Way. Show starts at 9:30 p.m..
Exclaim Review

By Randi Beers
Sault Ste. Marie, ON resident and civil engineer Catherine Taddo can also add the moniker "rockabilly queen" to her belt. Her sophomore release, Under Your Hood, is a cleanly produced, upbeat collection of songs complete with tongue-in-cheek lyricism (see: "Men are just like Street Cars"). There is no doubt that Taddo gets her crowd up and dancing when she's on tour. The album's best moments include rockabilly-cum-doowop hybrid "Waiting for You" and the funk-ified "Under Your Hood." Taddo's voice has jazzy warmth, a quality that serves as the cherry on top of her catchy melodies and the crisp musicianship of her band. Catherine Taddo certainly is a talent the Ontario north can boast as theirs.

Under Your Hood Earshot! Review


Apparently Catherine Taddo is a latecomer to the blues, but listening to Under Your Hood, there is no indication that this is the case. With 9 originals and one relatively obscure cover (Louis Jordan's 'Men Are Like Streetcars') Taddo has definitely set out to make her mark in the Canadian Blues world. That being said, Under Your Hood also dips into a little bit of funk ('Under Your Hood') and rockabilly ('Waiting For You') that is sure to make the blues die hard a little uncomfortable, but is going to delight fans of danceable, upbeat blues influenced music. The production throughout the album is very clean which really brings out Taddo's commanding, silky, sexy voice while allowing the lead guitar of Rusty McCarthy a lot of room to breathe. The backbeat provided by Ed Young (drums) and Frank Deresti (bass) is absolutely solid, and while a little workman-like (and there is nothing wrong with that), they both shine on the aforementioned 'Under Your Hood'. Deresti's funk runs definitely add to the hip-swaying, toe tapping feel of the song, pushing the enjoy-ability of it up a few notches. Overall, Under Your Hood has a very open and airy feel to it. It's easy to imagine these songs being played live and at times hard to not dance while listening to them. The easy, powerful flow of Taddo's voice mixed with the slick musicianship almost compels the body to sway, tap and move along.

Catherine Taddo has create an excellent modern blues (NOT blues-rock) album and Under Your Hood is sure to be a favourite with both types of people: those who get the blues and those who don't.

By Jason Wellwood